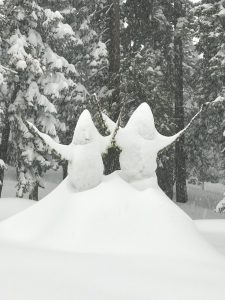 I moved to Bear Valley with my husband Ron, from NYC in 1997. We were living in Brooklyn and I was working as a Designer, merchandiser and production co-ordinator for one of the top New York Outerwear garment producers. Realizing we were looking for something more, we blindfolded each other and threw darts at a map and miraculously both landed on Bear Valley! Just kidding! Like so many before us, we came to visit a friend and fell in love with the place.
What an adventure its been! Some of my most favorite moments in this gorgeous place we call home have been the time we have come together as a community to share meals, celebrating achievements, major or minor; passing milestones – the changing of the seasons, the birth of a child or the marriage of two friends. It's always fun, delicious and heartwarming. I don't think we could have found a better community of people anywhere. I consider it a privilege to be able to call this place home.
Bear Valley is the kind of place that challenges you to take on more for your community, primarily because their just aren't enough bodies in town to get everything that needs to get done done! The Realtors at Bear Valley Real Estate are all 'worker bees'! We have sat on just about every board on town, we have rolled up our sleeves to pitch in on whatever needs doing. They say if you want something done – ask a busy person. That's us!
Please call or email if you have any questions about high country real estate. I look forward to helping you find your dream property.